1. Overview
This chapter gives an overview of Active@ UNERASER application.
Active@ UNERASER is a powerful software utility, designed to restore accidentally deleted files and directories. It allows you to recover files that have been deleted from the Recycle Bin, as well as those deleted after avoiding the Recycle Bin (e.g. Shift-Delete). It can be performed either under Windows or under DOS environment.
Active@ UNERASER can be installed on and run from (bootable) floppy disk, so that the risk of overwriting your data is minimized.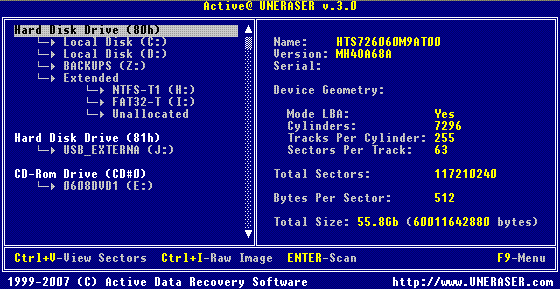 Active@ UNERASER will help you to restore data residing on hard drives or floppy drives formatted in any of the following file systems:
FAT12
FAT16
FAT32
NTFS
NTFS5
NTFS + EFS
It works under all DOS and Windows family of operating systems:
MS-DOS
PC-DOS
FreeDOS
DR-DOS
Windows 95
Windows 98
Windows ME
Windows NT
Windows 2000
Windows XP
Windows Server 2003
Windows 2003 Server
Windows 2008 Server
Windows 2012
Windows XP
Windows Vista
Windows 7
Windows 8
Active@ UNERASER supports the following configurations:
IDE, ATA, SCSI hard drives and floppy disks
Large sized drives (more than 8 GB)
Long file names and local language (non-English) file names
Recovery of compressed, fragmented and encrypted files on NTFS
Detection and recovery from deleted or damaged file partitions
Previewing file content and any sectors on the drive in Hex/Text Viewer
Advanced file search by location, mask, size, attributes
Disk Image creation and restoring data from it
PROTECT THE DRIVE LOCATION WHERE YOU HAVE ACCIDENTALLY DELETED FILES.
Any program that writes data to the disk, even the installation of data recovery software can spoil your sensitive data.
DO NOT SAVE DATA ONTO THE SAME DRIVE THAT YOU FOUND ERASED DATA, WHICH YOU ARE TRYING TO RECOVER!
While saving recovered data onto the same drive where sensitive data was located, you can spoil the process of recovering by overwriting table records for this and other deleted entries. It is better to save data onto another logical, removable, network or floppy drive.
IF YOU HAVE AN EXTRA HARD DRIVE, OR OTHER LOGICAL DRIVES THAT ARE BIG ENOUGH, CREATE A DISK IMAGE.
A Disk Image is a single-file mirror copy of the contents of your logical drive. Backing up the contents of the whole drive - including deleted data - is a good safety precaution in case of failed recovery. Before you start recovering deleted files, create a Disk Image for this drive.