Reason:
It means that the disk's space for the partition you are trying to recover is occupied by another existing parition(s). It also means that you are either trying to recover an improper partition, or, if you are 100% sure that it is your lost partition - the existing partition located underneath the Hard Drive device is invalid (for example, you deleted original partition and re-created a new one instead).
Actions:
Verify that the partition you are trying to recover is an original one and actually contains your data. If so, proceed to the step 2.
Verify that the existing partition(s) that overlaps with the one you are trying to recover is invalid. If so, you need to delete the existing invalid partition(s) using either the Computer Management console, or execute Delete Invalid Partition command from Tools menu.
Find and try to recover your original partition once again.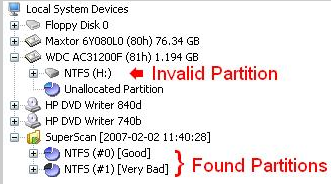 Note: Selecting, File -> Save Scan Results can save time and avoid having to re-scan the hard drive.